Honduras
Inequality
Impunity
Violence against Women
ef_english
In-Custody Death Sparks Allegations of Femicide against Honduran Police
Keyla Martínez, a nursing student, died in a police holding cell in the department of Intibuca following her February 6 arrest for violating the Covid-19 curfew. The Honduran National Police (PNH) claimed she committed suicide, but the medical examiner labeled her death a homicide and sparked an investigation. Her family is calling for justice amid widespread protests.
"I want to set a precedent to allow the many women who have been viciously murdered to rest in peace," said Norma Rodríguez, Martínez's mother, in a family press conference just two days after her burial. Rodríguez says her daughter's death is a femicide. "While my daughter is known around the world, I would have wanted it to be under different circumstances. Police officers strangled her, so we're demanding justice."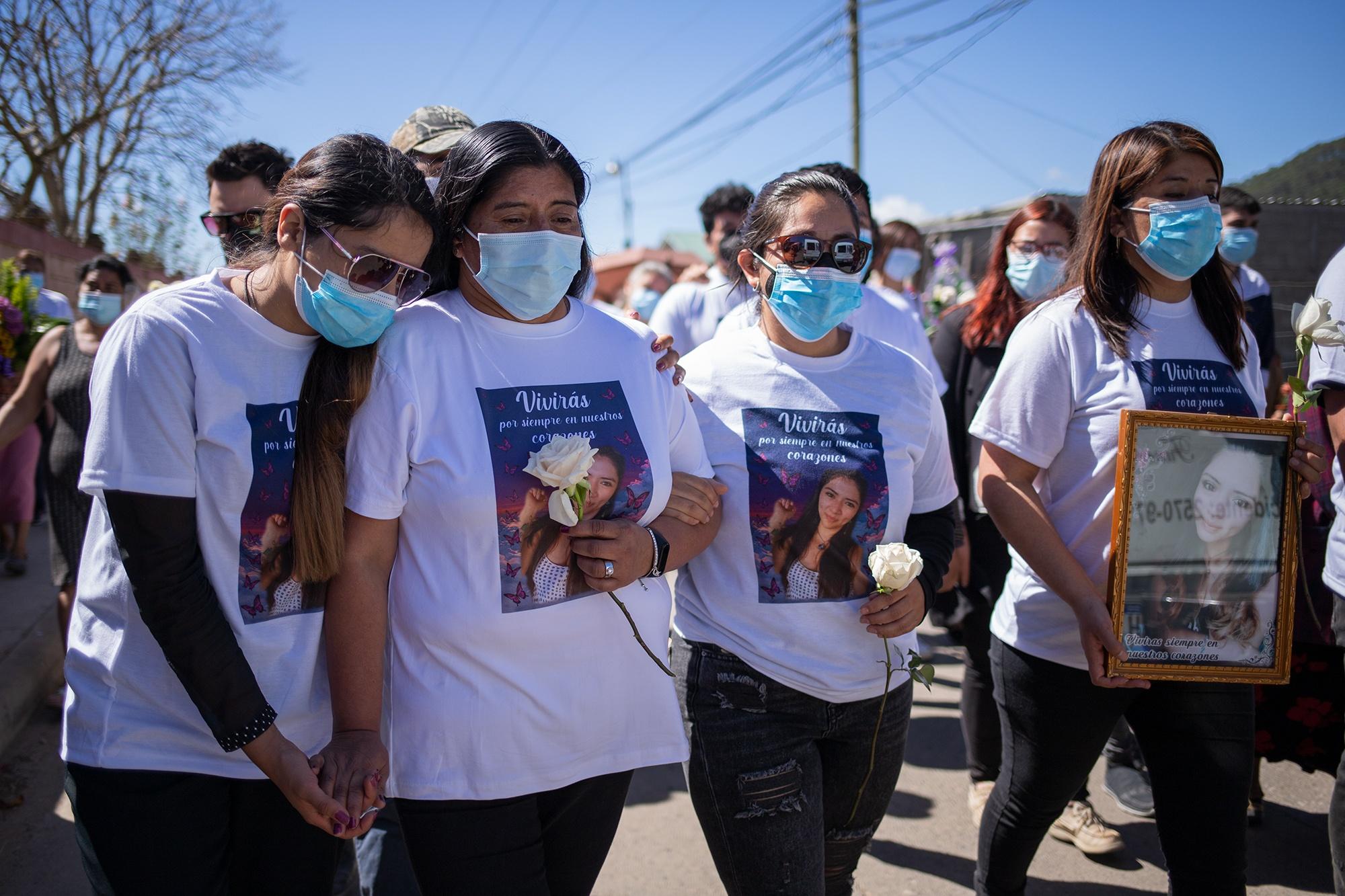 Initial news reports cited the police's claim that Martínez committed suicide in her holding cell following her arrest for breaking curfew. The police detained her on February 6 alongside Edgar Velásquez, a doctor, in La Esperanza, Intibucá. Just before 3am, doctors at Enrique Aguilar Cerrato Hospital received her body. The police, on the other hand, reported that she died at the hospital. The timeline of events between her arrest and her arrival at the hospital is still unclear.
"When agents discovered her trying to hang herself during cell inspections, they transferred her immediately to Enrique Aguilar Cerrato Hospital, where she passed away," wrote the Honduran National Police (PNH) in a press release.
Hospital authorities, though, refuted the claim that she had died in their care.
"Upon arrival, she showed no vital signs, but rather signs of death. All other details are the purview of the medical examiner," said José Lemus Martínez, the hospital's deputy director. The Technical Agency for Criminal Investigations (ATIC) of the Public Prosecutor's Office, which is investigating the case, now possesses the hospital report, he added.
Doctor Patricia Zúniga, who was working the overnight shift when Martínez arrived at the hospital, later told multiple news outlets that she had seen no signs of suicide and that the police who dropped off her body never mentioned that she had tried to kill herself. The hospital staff did register a bruised ear, "which could be the result of blunt force trauma," and noted that she had likely been dead for at least half an hour upon arrival and therefore could not have died during the transfer.
Jair Meza, PNH spokesperson, asserted in a press conference that the police's initial statement "was a preliminary report to make known that the PNH would initiate an investigation." The Secretariat of Security has detained at least 13 police officers and is assessing their mental health and running tests on the bodily fluids and pubic hair. 
Jorge Galindo, ATIC spokesperson, announced that the unit tasked with murders perpetrated by public officials or security forces is handling the case. "ATIC technicians are conducting a technical-scientific planimetric test in the cell where this tragic act occurred," said Galindo, adding that investigators will submit their final report to the prosecutors.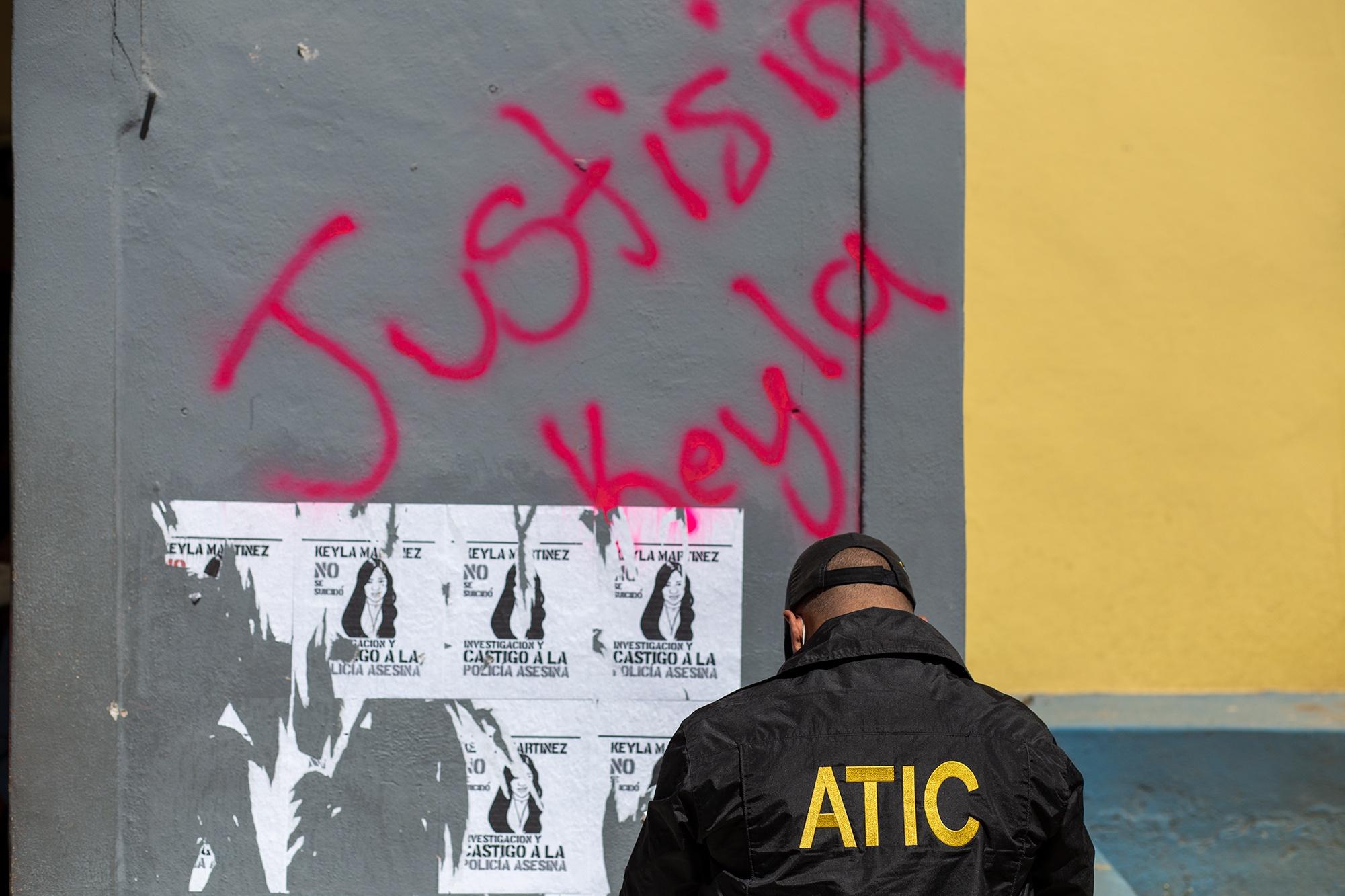 Karol Bobadilla, attorney and member of the feminist civic organization Foro de Mujeres por la Vida (Women's Forum for Life), said the PNH's handling of Martínez's death "is the clear result of how these cases have been handled for a long time, and how public institutions have established a pattern of labeling femicides as suicide." The result of that pattern, according to Bobadilla, is clear impunity for perpetrators of violence against women.
Contracorriente found that, since the codification of femicide in Honduran criminal law in 2013, only 15 cases have ended in convictions. Between 2008 and 2019, the Public Prosecutor's Office processed over 7,000 reports of homicide, infanticide, and parricide in which the victim was a woman. 
Olivia Zúniga, legislative deputy for the Liberty and Refoundation (Libre) political party in Intibucá, said Martínez's case personally resonates with her due to the 2016 murder of her mother, Berta Cáceres, a renowned activist for indigenous land rights and coordinator of the Council of Popular and Indigenous Organizations in Honduras (Copinh). When Zúniga joined protests in La Esperanza the day after Martínez's death, the police cracked down.
"The police statements and press releases have no credibility in our eyes, nor in those of the Honduran people," said Zúniga. "Their story keeps changing, just as it did with my mom. First they said her death was a crime of passion, and next that it was the result of an internal power dispute in her organization."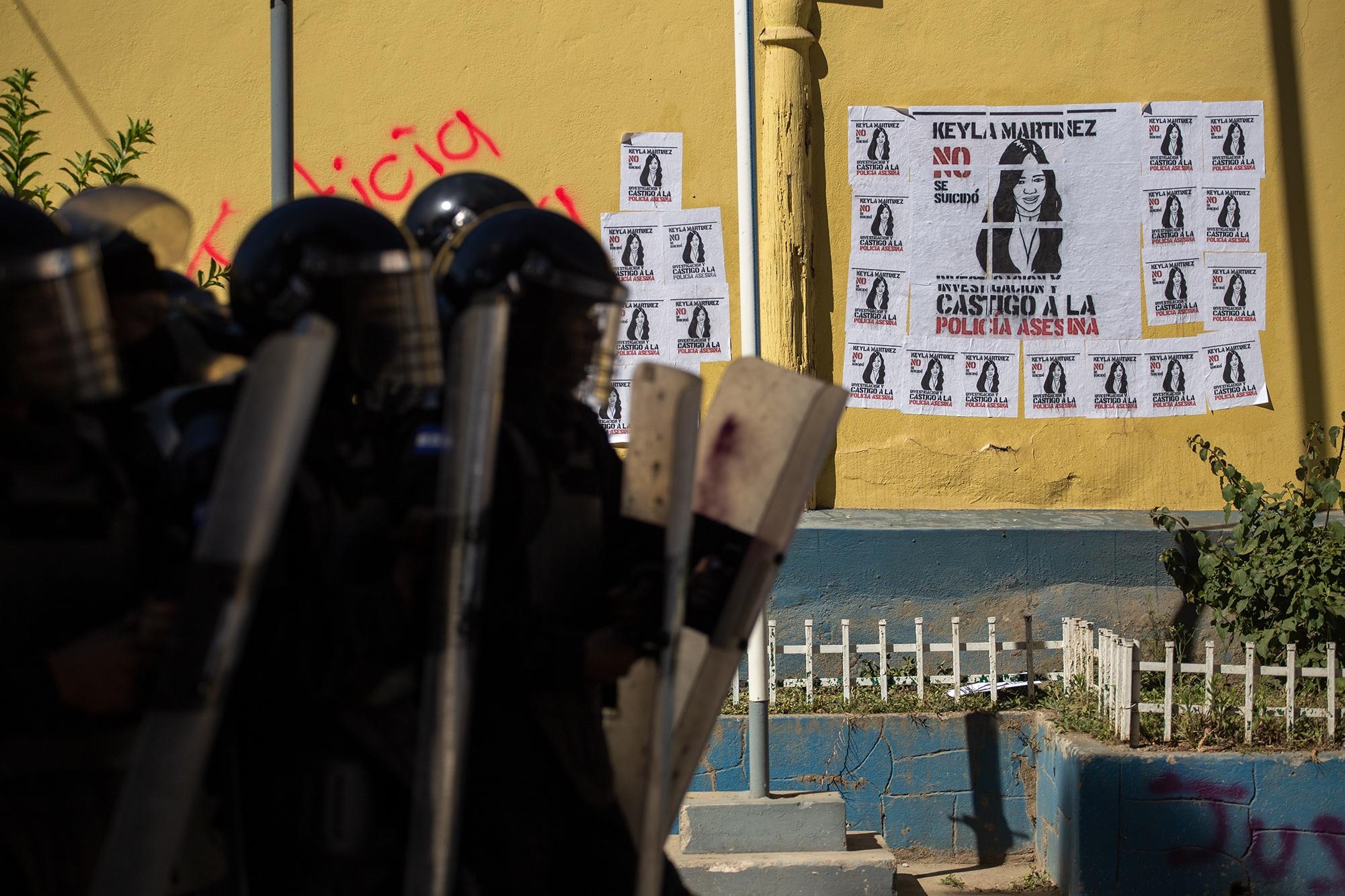 The most troubling part of the case, Zúniga added, is recent precedent: other young women have been "mistreated, beaten, and physically and sexually abused by that very police unit." On January 11 of this year, two women told local television broadcasters that the police in La Esperanza arbitrarily detained, beat, and tried to enter their holding cell to rape them. They filed a report with the Police Investigation Unit (DPI), but at the time of their interview had yet to receive a response.
One woman from La Esperanza, who spoke with Contracorriente on the condition of anonymity, said that on one occasion the police arrested her, violated her right to know why she was detained and to make a phone call, and tried to molest her multiple times in her cell. "The police would come in at midnight and I would tell them, 'what are you doing here if I'm the one who's been arrested?'"
The same weekend of Martínez's death, at least four other femicides occurred in Honduras. It's nothing new, says Karol Bobadilla. Violence against women "has become a subject of morbid fascination beyond the goals of informing or educating the population. News has become a source of revenue, adjacent to marketing, in addressing the issue in a morbid, victim-blaming, and sensationalist way."
Bobadilla also notes that the PNH is often the first barrier women face in seeking justice. "We believe the institution has a long way to go in terms of structural, deeper, change regarding women's lived realities."
A Contracorriente investigation found that women aren't safe within the PNH, where they reportedly face harassment and sexual assault and many barriers in the free and equal exercise of their profession.
Forensic analyst Julissa Villanueva lost her job with the Medical Examiner's Office months after contradicting her own agency in publicly stating that the autopsy of Sherill Hernández, the head of the ATIC department of crimes against public officials who was found dead in her home in Copán, was a homicide rather than a suicide.
Villanueva says she has also faced harassment and intimidation for her public statements about Martínez's autopsy report. It's important to realize, she argues, "that this isn't an isolated incident. It's more complex, and we're focusing only on that girl. How many more have they done this to?"
The three women attorneys working Martínez's case say they took it on pro bono because "we are brave women who know that today's victim is also a woman," said Irma López, the family's lead attorney. The family hopes prosecutors will refrain from issuing findings too early, leading to the release of the guilty due to lack of evidence, according to López. "We want to hold criminally responsible each of the culprits, the police on duty that night who had Keyla Patricia Martínez in their custody and took her life."
Protests and Symbolism in Her Wake
Shortly after the news broke of Martínez's case, protesters began to demand justice. On Sunday, February 7, the day she died, peaceful demonstrations formed in front of the police station in La Esperanza. The next day, what started as a similar demonstration escalated into a confrontation between the PNH and protestors — and left multiple wounded.
The protest ended around 8pm. One hour later, 40 police assigned to La Esperanza were transferred to Tegucigalpa and replaced with officers from the department of La Paz. Rebeca Torres, PNH spokesperson, told news broadcasters the transfers were standard practice during changes in leadership. "We have a new director, as well as a new chief of strategy. The changes reflect strategic planning to be able to mobilize the police force and follow the law."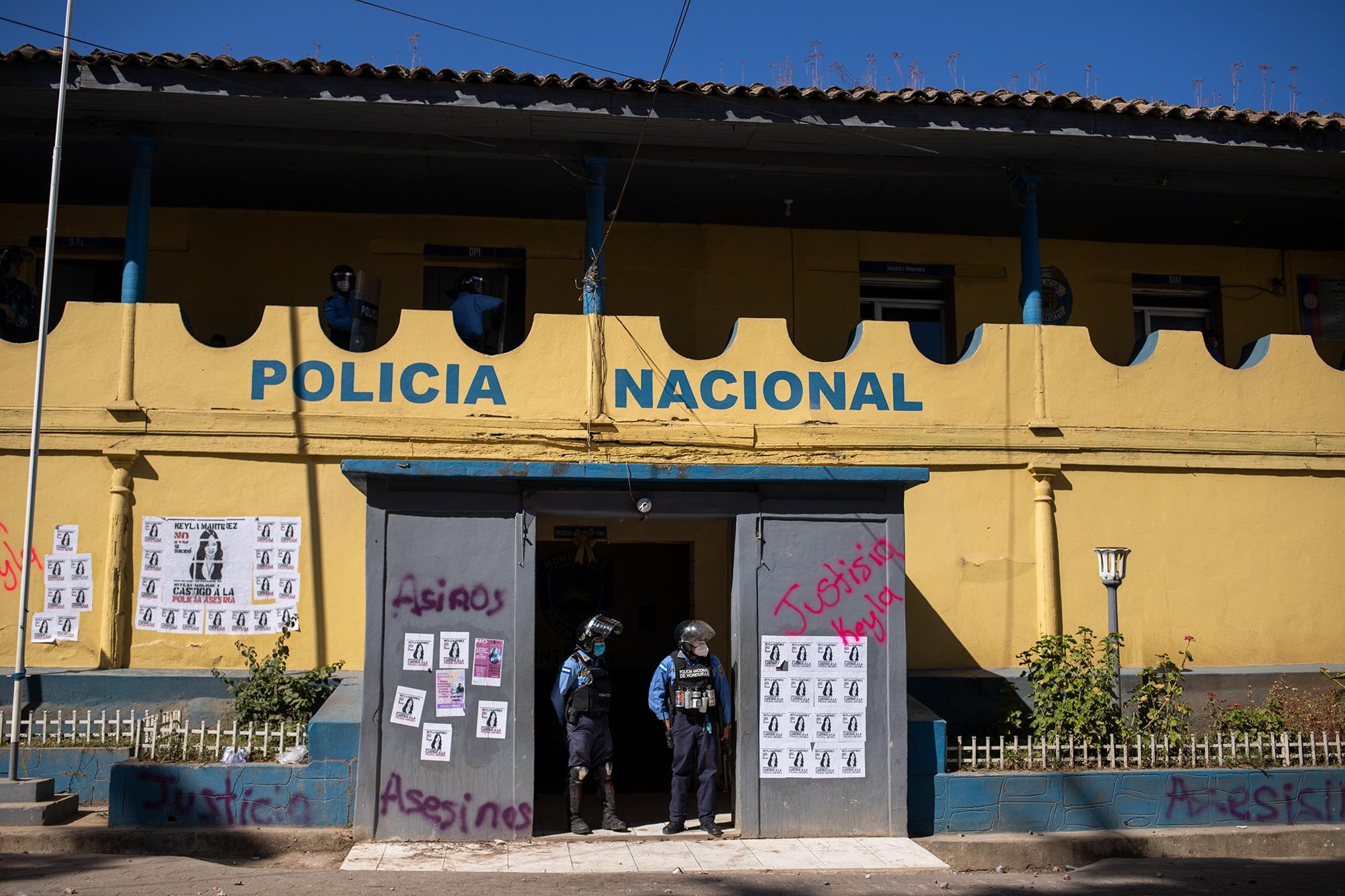 But Alex Madrid, the new deputy commissioner assigned to La Esperanza, told Contracorriente that Keyla's case accelerated the police transfers. "The possibly involved officers have been relieved of their duties, as planned, but of course this situation accelerated that process," he said in an interview at the station. "I can assure you that there has been no effort to obstruct investigations." Madrid claimed he was on the scene to mediate and that he had no orders to repress the demonstrations.
The station's top official, Melvin Alvarenga, was assigned to La Esperanza on January 24 — only 13 days before Martínez's murder — following an assignment in La Moskitia, Gracias a Dios, which began in May of 2019.
In his only statement to the press, Alvarenga told a television network that there were three male officers assigned to the police station's office of citizen services and that the female officers were out on patrol at the time of Keyla's detention and death.
At Martínez's wake on Tuesday, February 9, a group of women held a vigil outside the police station. They created an altar with the names of female victims from the department and, with lines of candles, spelled out "JUSTICE." Days before, the women crafted signs with Martínez's face, reading: "She didn't kill herself, the police did."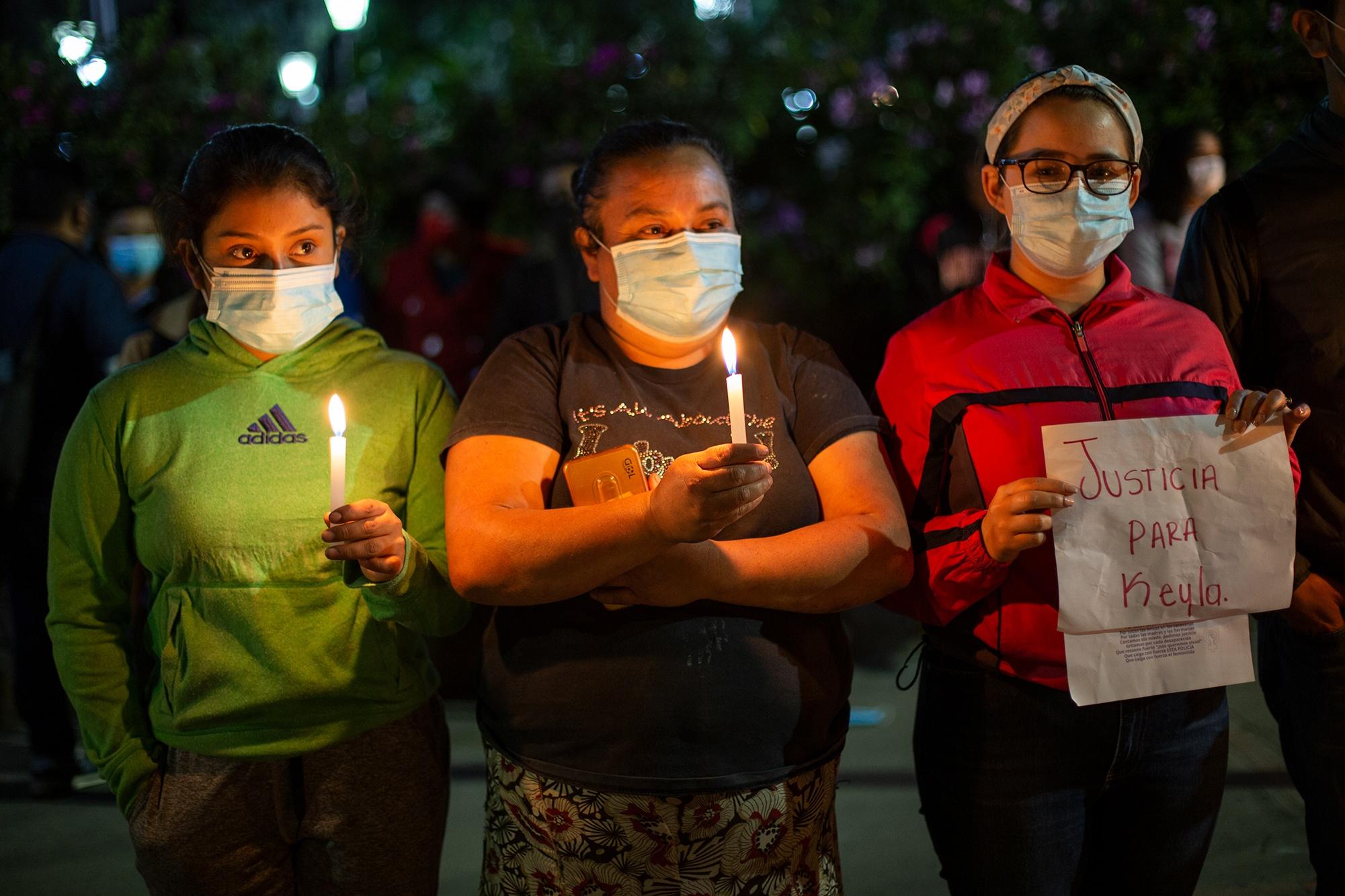 Men began joining the women at the park. The newly arrived received candles and began chanting in front of the station where officers looked on from two separate floors and occasionally recorded the scene. A nurse silently crossed the crowd, placed a candle and a flower on the altar, spoke to no one, and left weeping. It's unclear whether she knew Martínez. Nurses throughout the demonstration said they were scared of speaking on the record to the press, but that they thought that what happened to Martínez could have befallen any of them.
A group of women carried signs with the lyrics of a Mexican feminist song, "Canción sin miedo," adapted for Honduras. "I am Keyla, Margarita, and Teresa. I am Berta, Nicole and Maudalena. I'm the girl you took by force, the girl murdered in the cell, and I'm the one who will make you pay."
While the women sang in La Esperanza, the Secretariat of Security gave a press conference in the capital on the case. "The National Police was only carrying out the government's orders during the sanitary crisis and pandemic. If, as a result of these actions or any other, a police officer engaged in misconduct, what's important is the corrective measures we are taking," said Gerson Velásquez, a PNH deputy commissioner. Velásquez did not specify what internal measures the PNH has taken.
Data analyzed by Contracorriente shows that at least 47,000 people were arrested between March and June for breaking the government's Covid-19 curfew. During many of these arrests, human rights groups documented arbitrary detentions, mistreatment, physical harm, and increased risk of contracting the virus.
For hours, the police remained in lockstep and launched tear gas at the demonstrators. Then, when the entrance to the police station caught fire and agents began to make arrests, many demonstrators left the scene as the stand-off escalated and others arrived to face off with the police.
Martínez's burial on Wednesday, February 10, was not only attended by family and friends, but also by people enraged by her death who were calling for justice and carrying flowers, balloons, and signs. The family converted what would have been an intimate moment into a small, self-organized press conference. In front of her daughter's casket and in her first comments to the press after returning from Spain, Norma Rodríguez said her daughter's death was a femicide and that the only recourse they expected to receive was from international organisms. "My country hurts me. It hurts that there are no trustworthy authorities here."
Martínez was buried in a casket partially covered with the banner of her nursing school where she was on the verge of graduating. Romualdo Orellana, director of the Gadan Medical Center, where Martínez had worked for several years, told Contracorriente how he had encouraged her to study medicine and how in December she picked up shifts during others' vacation time. "I watched her grow in her career. She worked with such enthusiasm and professionalism," he recalled.
Orellana noted that Martínez's death had shaken the whole community — especially the health workers' union, which he says has faced police abuse. "I, myself, have been assaulted by the police on my way to night calls with patients. I think the modus operandi of the police is to harm, rather than to serve and protect, the population." On one occasion, he says, he fled arrest due to the distrust and violence with which they had stopped him. The next day, during a traffic stop, an agent told him, "you're the one running from the police."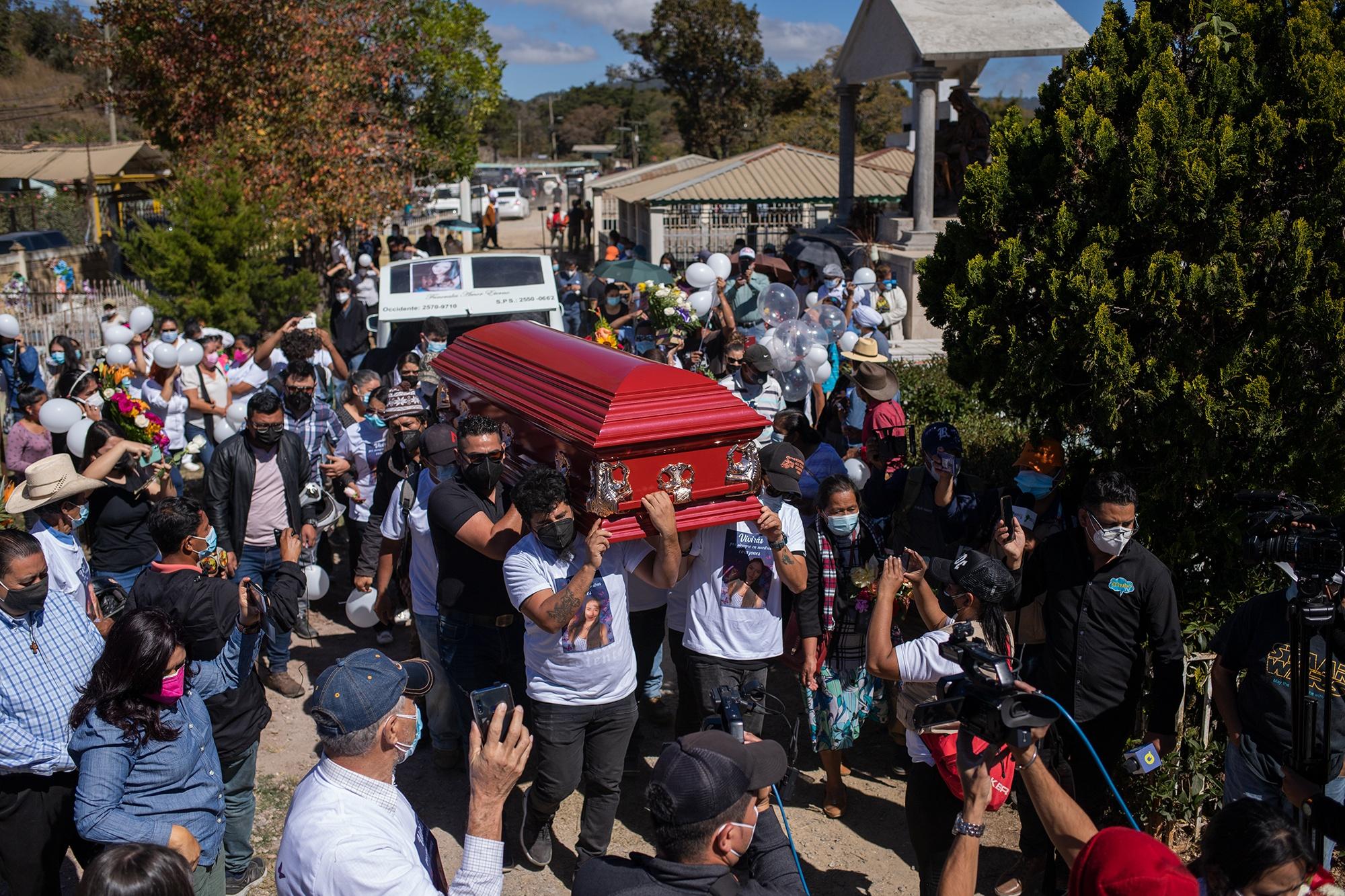 Martínez's father, Luis Sosa, took advantage of the media attention to call for a purge of state institutions. "Clean up these institutions, which have been corroded by corruption, delinquency, and all sorts of condemnable acts which have subjugated the Honduran people," he said. "I think all of us here are disillusioned with the country that a group of incompetent and corrupt leaders are leaving to us."
Martínez's family has not ruled out an exhumation, should their attorneys deem it necessary for their case.
A Police Account Riddled with Inconsistencies
"The day I found out, I hadn't even eaten breakfast. The news about Keyla was my breakfast. It was unbelievable, something you don't see coming," said Ridel Hernández Rodríguez, Martínez's uncle. "The authorities have left many questions and contradictions, and we just want to clarify what happened," he added. The first such contradiction surfaced when the family went to the police station to collect Martínez's belongings. Agents told them Martínez's identification card was at the hospital, but they later found out that the card was, in fact, at the station. The incident caused the family to distrust the police from early on, he explained.
The police have also repeatedly stressed that Martínez was intoxicated when the police stopped her, a claim which her family says is an attempt to blame the victim. By the department's own admission, they did not subject her to a blood alcohol test. Officers claim to have a video recording in which she says she drank between one and three beers, according to deputy commissioner Melvin Alvarenga.
"What hurts the most is that an officer had the audacity to try to defame her when we all know she was a well-behaved girl, with dreams of serving her country and community," said Sosa, Martínez's father. 
In addition to the PNH's initial lie that Martínez had died at the hospital rather than in police custody, Alvarenga claimed that she attempted suicide by hanging herself with her own clothing. "She had a blouse or tank top and the article of clothing she used to kill herself was very similar to her blouse. And keep in mind that it gets cold here, so we take that into consideration with the detainees."
The police's assertion that Martínez tried to hang herself with her blouse is false, according to Irma López, the family's attorney. Martínez was five feet, six inches tall, and given the low ceiling of the cell, López says there is no way she could have done so.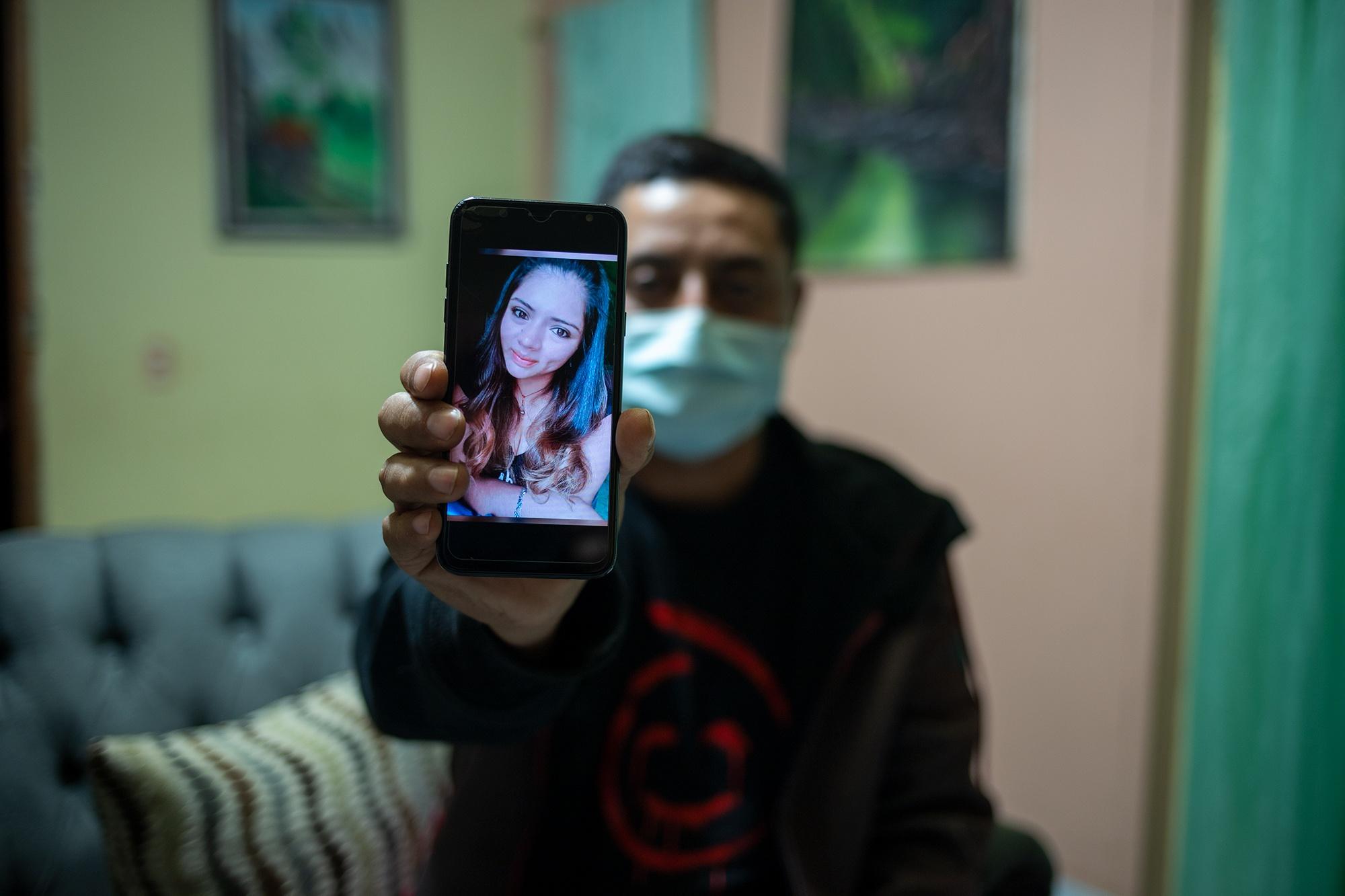 Four days after Martínez's death, doctor Edgar Velásquez, who was detained alongside her, told various television networks that while Martínez at first helped him calm down, once she was in the cell her mood changed. "She was very sad and said she wanted to die, that she was going to hang herself with her sweater. I told her to not say that because words carry power."
There were ten other people in the cell who overheard the exchange and could confirm that Martínez then stopped responding, according to Velásquez. Five to ten minutes after they started calling for help, agents intervened and removed Martínez from her cell. At the time he asked to check her vital signs, but the officers refused to let him. Alvarenga told him that Martínez had died the next morning upon his release.
López, the family's attorney, says Velásquez's comments are an affront to the family, that Martínez had no reason to kill herself. "The autopsy ruled her death a homicide, so we'll see which carries more weight: scientific evidence or testimony."
Legislative deputy Zúniga says that disputes over cause of death are a reality for the families of all murder victims in Honduras. "We are denied the right to an autopsy and forensic analysis independent of that of the Public Prosecutor's Office, where manipulation is much easier because the justice system is so corrupt," she said. "Magistrates, prosecutors, and judges must be purged because this country has no intention to seek justice for women. These events illustrate that impunity is so rampant that they don't think about the consequences of their actions."
Yuri Mora, a spokesperson for the Public Prosecutor, said investigators could offer no further comment about their inquiries into the killing and declined to specify whether Doctor Velásquez is under investigation. He claimed, though, that any public statement made to the press had no sway on the investigation.
Martínez's family gathered in the house where she lived with her sister in La Esperanza. On one of the doors hangs a sign she made, which has become a symbol of her family's quest for justice. Flanked by a rose and butterfly, the message reads: "I'll never stop fighting because those who don't fight die."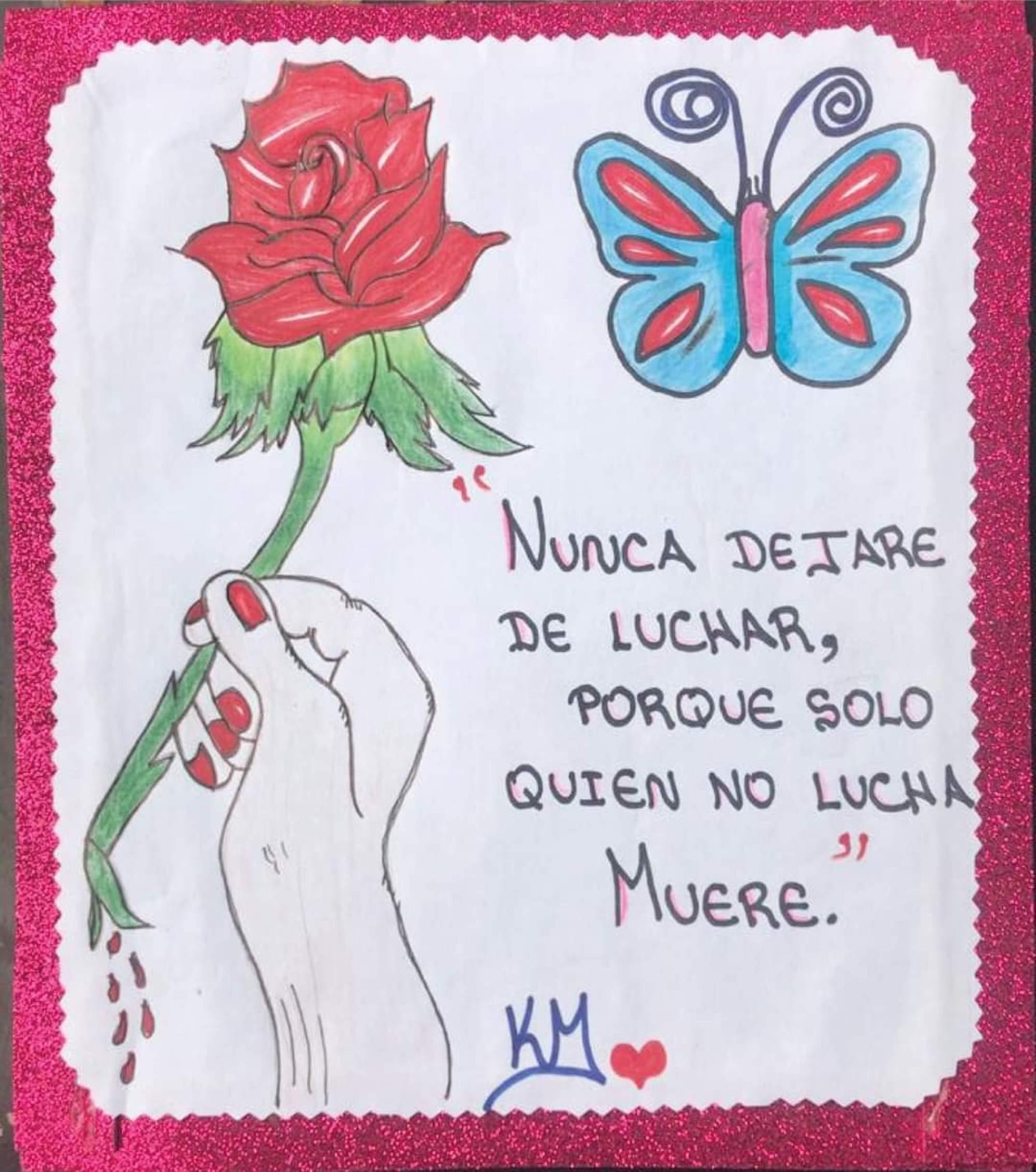 *Translated by Roman Gressier
Apoya el periodismo incómodo
Si te parece valioso el trabajo de El Faro, apóyanos para seguir. Únete a nuestra comunidad de lectores y lectoras que con su membresía mensual o anual garantizan nuestra sostenibilidad y hacen posible que nuestro equipo de periodistas llegue adonde otros no llegan y cuente lo que otros no cuentan o tratan de ocultar.
Tú también puedes hacer periodismo incómodo. Cancela cuando quieras.
Te necesitamos para seguir incomodando al poder.
Conoce
acá
cómo se financia El Faro y quiénes son sus propietarios.
Jo-Marie Burt y Paulo Estrada
Jo-Marie Burt y Paulo Estrada
Vienna Herrera, Jennifer Ávila, Linda Ordóñez y Martín Cálix
www.elfaro.net/en/202102/centroamerica/25262/In-Custody-Death-Sparks-Allegations-of-Femicide-against-Honduran-Police.htm

PP:
PC:
PN:
PT:
items_count:
items_pivot:

YY:

MM:

FI slug:
FI name: February 2021
FI sort:

FT slug:
FT name:
FT sort:

FS slug:
FS name:
FS sort: